Empowering Investors for over 20 years
Veritas is Canada's Leading
Independent Equity Research Firm
---
Our Mission is to Seek the Truth from the Facts
---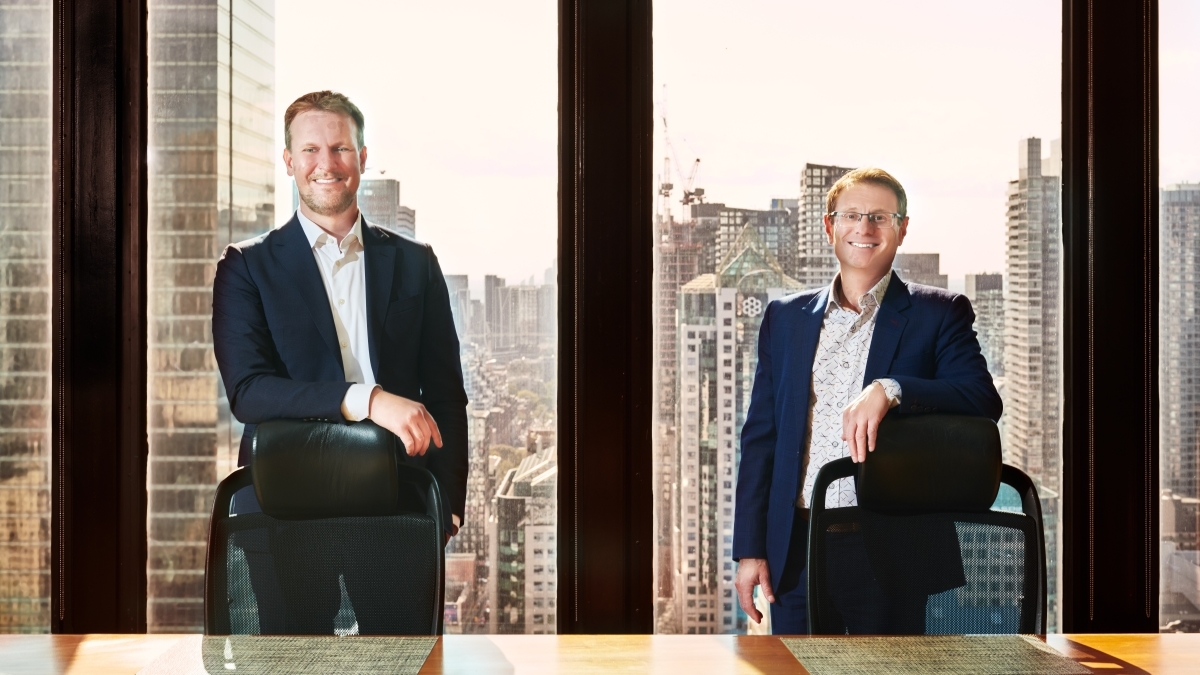 Darryl McCoubrey, Vice President and Head of Research, Partner, and Dimitry Khmelnitsky, Vice President, Partner, Head of Accounting & Special Situations
---
We Outperform
Our recommendations to Buy stocks have outperformed the S&P/TSX Composite by more than 300 basis points, while the Sells recommendations have underperformed by more than 400 basis points since March 1999.
Find out more about our Track Record.
---
---
We Are Independent 
We provide investment research you can trust. We do not have investment banking or trading revenue or biases. That means we are only paid by the clients who read our research or receive our training. We call it the Veritas Way.
Find out more about our Investment Approach.
---
---
We Stand Up For Investors
We are the voice of investors and study accounting like no other. We have served on national and international accounting standards and regulatory advisory boards, taught at business schools and regularly are cited by major media outlets.
Find out more about Our Team.
---
  We have many subscription options.
   Contact our Sales Team to discuss your equity research needs.     Contact Sales

---
11th Annual 


Great Canadian Real Estate Conference
Caught between skyrocketing rates and the inflated cost of living
The SQUEEZE
October 5, 2023
9 am to 5 pm
At The National Club in Toronto
and Streaming Online
Don't miss our annual "Relentlessly Honest," on-the-ground conference about Canada's residential and commercial real estate markets.
Our Rating System
Our recommendation system has three tiers:
Buy, Reduce and Sell.
A Buy is expected to generate a meaningful positive return or outperform our analyst's sector coverage over the next 12 months, while a Reduce is expected to underperform our analyst's sector coverage over that time, and a Sell is expected to generate a meaningful negative return.
Last year, we made 81 Buy recommendations and 53 Reduce/Sell recommendations, with the Buys outperforming the S&P/TSX composite index (including dividends) by 443 basis points, while our Sells underperformed the index by 591 basis points.
2022 Performance
(December 31, 2021, to December 31, 2022)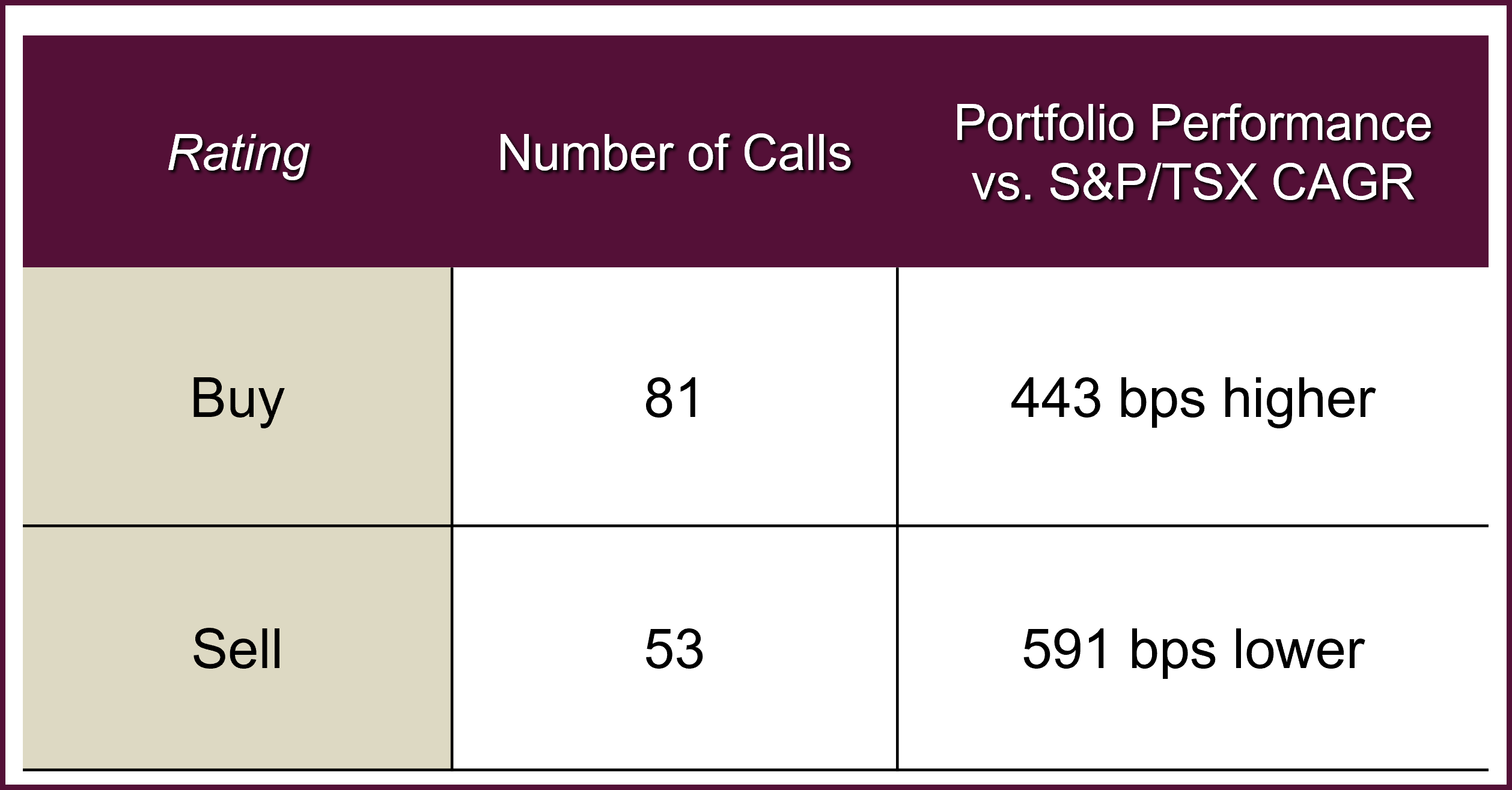 See our Track Record page for calculation details.


Thank You!
We had 91 golfers and many of their family members gathered last week to compete over a round of golf, eat, drink and dance to raise over $15,000 for children's cancer charities. We have now raised more than $125,000 for cancer-related charities over the years.
Thanks, everyone, for your support in making this a great event!
---
Events
26 September, 2023
Canadian Public Accountability Board Symposium: The Evolving Fraud Landscape
Our President and CEO, Anthony Scilipoti, will be a panellist at this CPAB Symposium that will bring together key stakeholders for an invitation-only discussion about the evolving fraud landscape and the role of boards/audits committees, management and auditors in managing emerging fraud risks. Visit CPAB for an invitation.
News and Insights
August 23, 2023
We expect lower loan growth in the upcoming results: Bank earnings preview
Nigel D'Souza, our Senior Financial Services Analyst, joined BNN Bloomberg to discuss why investors should look past the headline numbers to areas of concern for the Canadian banks.
"I think what everyone is going to be paying attention to is the net interest margin and what is happening on the funding cost side," he said. "There is a lot of funding pressure at the moment." In Canada, depositors are moving their money from lower-yielding demand and notice deposits (chequing and savings accounts) to term deposits (GICs). That's going to increase funding costs in Canada for the banks.
Recent Reports
Bombardier Inc. - Industrials

Allied Properties REIT - REITs

ARC Resources Ltd. - Energy
---
---
Our Affiliated Companies
The Veritas Group of Companies
Veritas Investment Research Corp., Veritas Asset Management Inc. and The Veritas Foundation
are owned by the Veritas Group of Companies, which is 100% employee-owned.
---
Veritas Asset Management Inc.
Veritas Asset Management was founded on the belief that superior research leads to better investment decisions. Our funds capitalize on the successful research of our affiliate Veritas Investment Research Corp.


Sam LaBell, Veritas Asset Management Advising Representative, Director
Our portfolios offer concentrated, high-conviction positions in companies identified through our research and due diligence work, applying a disciplined and systematic selection process. 
Through our research, we identify opportunities to profit from mispriced securities, either by buying top-quality companies for long-term capital appreciation or through long-short hedging strategies.  While our portfolios are primarily focused on Canadian equities, our portfolio managers also consider opportunities beyond Canada.
---
Veritas Foundation
The Veritas Foundation aims to be Canada's authoritative source for participating in the country's charitable sector and evaluating its effectiveness and impact. Our vision is to foster a thriving Canadian charitable sector.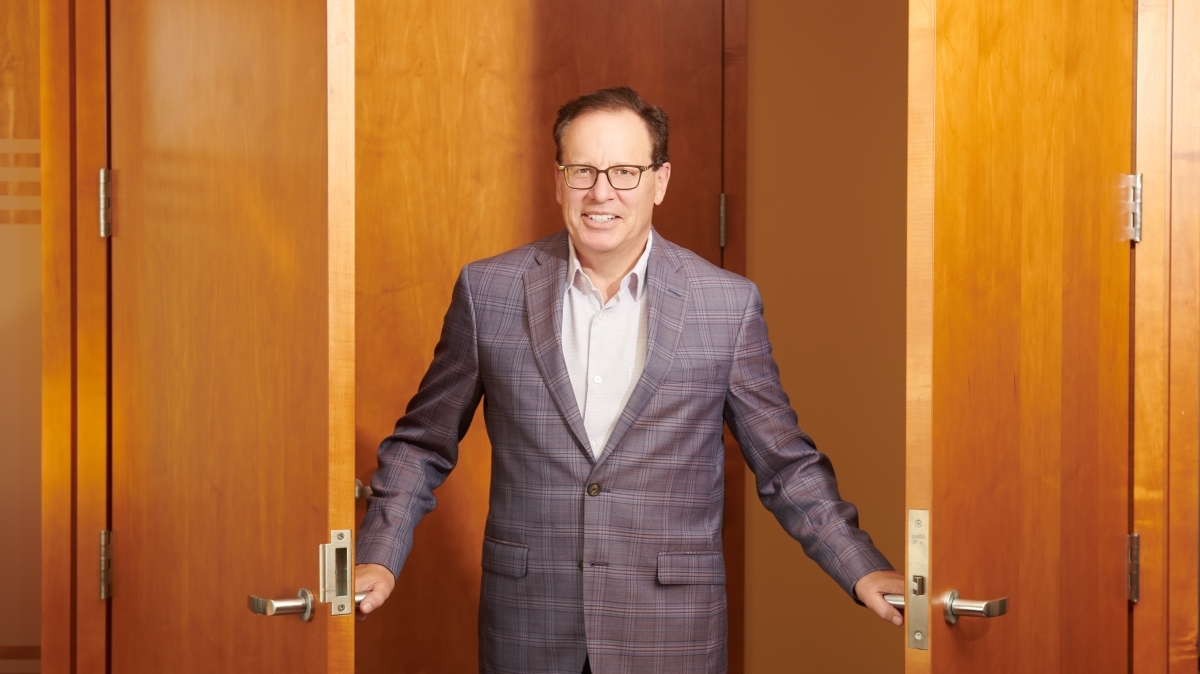 Mark S. Bonham, Veritas Foundation Executive Director
The Veritas Foundation is committed to making sustainable improvements to the Charitable sector through its innovative research, management and granting programs. 
In addition to offering the Veritas Foundation Giving Fund, a Donor Advised Fund, the foundation offers grants and awards linked to independent advice, information, thought leadership, and comprehensive reviews of Canadian registered charities, all within a unique VScore program framework.