Our webinars are for our clients and subscribers only. For sales subscription inquiries, please contact Sales.
---
In this 10-minute video conference, Anthony, Dimitry and Jacob discuss our recent report on the U.S. residential solar leasing sector, including three industry leaders: Sunrun Inc. (RUN), Sunnova Energy International Inc. (NOVA), and SunPower Corporation (SPWR).
They discuss:
• Why we stepped across the border to take an in-depth look at this sector: "Analysts are cheerleading, almost competing with each other on who is more bullish on the prospects. So we decided to take a look."
• Aggressive non-GAAP metrics: Why U.S. GAAP financial statements aren't very useful for this sector and how this opens the door for management teams to use aggressive non-GAAP metrics.
• Why these are some of the most-complicated non-GAAP metrics that Dimitry has seen in his 15-year career at Veritas.
• Key risks to the non-GAAP metrics:  These include assumptions for zero churn rates and zero default rates over the next 20 to 30 years. 
Full report: Blinded by the Light: Highlighting Solar Non-GAAP Risks – NOVA, RUN, SPWR
We will be holding an in-depth webinar in the next two weeks on this report (about two hours). Stay tuned for more details. Please email Carmela if you would like a heads up on this webinar.
---
In this10-minute video conference, Anthony and Dan discuss:
• Why KCS is so attractive strategically for both CNR and CP.Which partner will KCS likely align with and why?
• Which bid is likely to receive more regulatory scrutiny?
• Can CP afford to raise its bid? Could another player come in with another bid?
---
In this 8-minute video conference, Anthony and Jeff discuss:
• Oil was trading at about negative US$37 a barrel a year ago. What have we learned from the past year as investors?
• A lot has changed in the last few months in the sector. Why are you more optimistic about commodity forecasts for 2021 than previously?
• Top picks in the sector: CNQ, SU, ERF and ARX
• Why should Suncor sell its gas station business, and what is it worth?
---
In this 11-minute video conference, Anthony and Kathleen discuss consolidation trends in the grocery industry and why she thinks George Weston (WN) should pursue a purchase of Overwaitea. They discuss:
• The math on why a purchase of regional-grocery Overwaitea Food Group makes more sense for WN than buybacks or buying out the remaining shares of Loblaw that it doesn't already own.
• If Overwaitea is for sale, then Loblaw, Metro and Empire would also be interested. How much is Overwaitea worth? Who wins a bidding war and why?
---
In this 14-minute video conference, Anthony and Dimitry discuss our recent initiation on Brookfield Business Partners (BBU) and how Dimitry was able to get comfortable with the complexities of BBU's operating subsidiaries and the opaqueness of its disclosure.
They discussed:
• What we found when going through the filings of the operating subsidiaries in various jurisdictions around the world;
• Non-GAAP metrics and how to get an accurate picture of sustainable free cash flow;
• Why investors need to evaluate maintenance Capex carefully;
• Which subsidiaries present key risks and why.
---
Howard's STREIT Smarts webinar discussed:
• Interest Rate Risk: With higher bond yields and whispers of inflation, which REITs have the highest exposure to rising rates? 
• (Un)fair Values? COVID disrupted rent collections and growth. Did any trusts try to get around that by changing methodologies or messing with cap rates?
• The Fate of Offices: The economy is set to reopen but may not include office tenants. What does that mean to landlords?

---
Nigel and Anthony discuss:
• How the run-off in excess deposits supports net interest income and top-line revenue
• How reversals of credit loss provisions are a tailwind for earnings
• Why BMO is our favourite ban
• How will OSFI follow the FED's decision to remove restrictions on dividends and buybacks for US banks 
---
In this 10-minute video conference, Anthony and Dan discuss Canadian Pacific's $29-billion merger with Kansas City Southern and why Dan is positive about it despite the stocks taking a hit yesterday after the companies announced the deal.
Highlights:
• They discuss the re-opening and ongoing re-stocking of the North American economy.
• Why the deal makes strategic sense. What are investors missing?
• What other deals do you see in the North American rail space?
---
February 1, 2021
Telus International: Agents of Change
With Desmond Lau

Desmond's pre-IPO webinar covered:
•   Can TI's strong culture be considered a moat? 
•   How does a compensation scorecard similar to Telus' lead to high employee engagement and low attrition?
•   What logical adjustment to FCF does TI need to make that would reduce this metric?
•   Is a "material weakness" in internal controls cause for concern? 
•   Should investors be concerned about TI's net debt?
---
January 31, 2021
Manulife Financial: Mispriced and Misunderstood
With Nigel D'Souza
Click here to view the presentation slide deck
Nigel discusses MFC's strong capital position, limited COVID impact on its insurance business and a return of core investment gains. MFC's invested assets are also well-diversified with high-quality holdings.
---

Anthony and Darryl provided an overview of some of the macro indicators that we're watching closely as well as the firm's TOP PICKS.
---
2020
---
December 16, 2020
Canadian Banks Webinar: Looking ahead to 2021
With Nigel D'Souza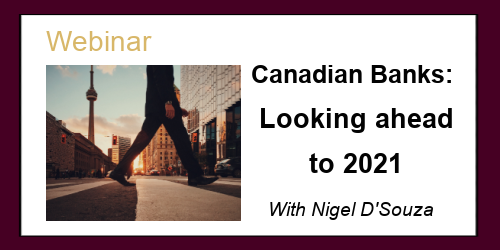 A review of 2020 for the banks and what to look for in 2021, including what we see coming for loan growth, credit losses and capital markets, as well which banks we think will have the highest earnings volatility and earnings growth.
---
December 11, 2020
Airbnb's IPO Webinar: Know Before You Travel
With Howard Leung & Jeffrey Craig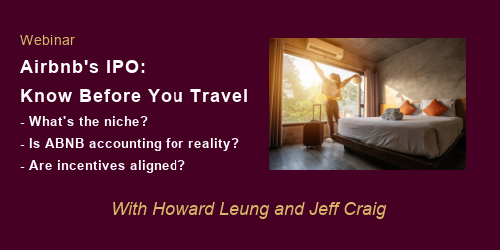 Howard and Jeff dove into the S-1. They discussed: 
•   A new way to think about Airbnb's edge when comparing it with online travel competitors.
•   Accounting policies to watch out for, including peer comparisons. 
•   Management compensation
---
September 24, 2020
Quarterly Best Ideas Video Conference: Playing Offense and Defense
With Veritas Analyst Team
July 23, 2020
Banking - Virtual Teach-In: Unraveling the mechanics of IFRS 9
With Veritas Analyst Nigel D'Souza

May 21, 2020
STREIT Smarts - COVID Edition: Exploring bad debt collections
With Veritas Analyst Howard Leung

May 13, 2020
Telcos - COVID-19 Webinar: Conversations with Collection Agencies
With Veritas Analyst Desmond Lau

April 24, 2020
Telcos - Special COVID-19 Virtual Teach-In: Understanding cash flows and bad debts during the pandemic
With Veritas Analyst Desmond Lau

April 21, 2020
STREIT Smarts - COVID Edition: Who can pay rent? And who can get out of it?
With Veritas Analyst Howard Leung
(Please note that the first few minutes of the recording were cut off. We apologize for the inconvenience.)