Our webinars are for our clients and subscribers only. For sales subscription inquiries, please contact Chris Davidge.
---
December 16, 2020
Canadian Banks Webinar: Looking ahead to 2021
With Nigel D'Souza

A review of 2020 and what to look for in 2021, including what we see coming for loan growth, credit losses and capital markets, as well which banks we think will have the highest earnings volatility and earnings growth.
---
December 11, 2020
Airbnb's IPO Webinar: Know Before You Travel
With Howard Leung & Jeffrey Craig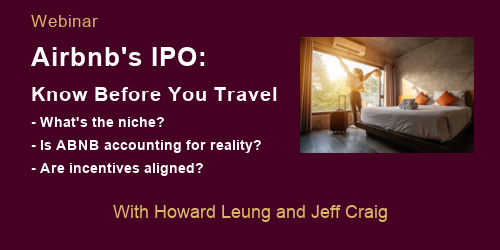 Howard and Jeff dove into the S-1 and how a new way to think about Airbnb's edge when comparing it with Online Travel Agency (OTA) stalwarts Booking and Expedia. They also dug through the accounting policies to highlight what to watch out for, including peer comparisons. Finally, they delve into how management compensation is congruent with shareholder value.
---
September 24, 2020
Quarterly Best Ideas Video Conference: Playing Offense and Defense
With Veritas Analyst Team
July 23, 2020
Banking - Virtual Teach-In: Unraveling the mechanics of IFRS 9
With Veritas Analyst Nigel D'Souza

May 21, 2020
STREIT Smarts - COVID Edition: Exploring bad debt collections
With Veritas Analyst Howard Leung

May 13, 2020
Telcos - COVID-19 Webinar: Conversations with Collection Agencies
With Veritas Analyst Desmond Lau

April 24, 2020
Telcos - Special COVID-19 Virtual Teach-In: Understanding cash flows and bad debts during the pandemic
With Veritas Analyst Desmond Lau

April 21, 2020
STREIT Smarts - COVID Edition: Who can pay rent? And who can get out of it?
With Veritas Analyst Howard Leung
(Please note that the first few minutes of the recording were cut off. We apologize for the inconvenience.)